How did the spur of IPOs impact Bay Area housing markets?
August 7, 2019 — Source: Compass

Executive Summary:
Higher-end sales (above $3 million) surged in the second quarter to last year's historical peaks.
Home prices remained flat in the second quarter, except in San Francisco and San Mateo.
For-sale inventory growth slowed considerably, especially in San Francisco. Inventory remains at 50 percent of the last housing boom.
Tax reform is likely putting a damper on the market by dragging down sales priced between $1 million and $2 million.
It was a significant quarter, at least when comes to the IPO activity in the Bay Area. According to Pitchbook, total venture-backed exit value for the first half of 2019 reached $188.5 billion, exceeding every full-year total on record. San Francisco companies ranked in the top four out of five IPOs in exit value including Uber, Slack, Pinterest, and Zoom Video Communications, but also a few others.
But, what did that mean for the Bay Area housing markets in the second quarter? Below is a list of the top four trends that are worth noting for the quarter.
1. Higher-end sales surged. While the total number of homes sold in the second quarter trended below last year by about 5 percent, higher-priced sales, above $3 million, surged again bringing second quarter sales in line with last year's historical peak. Figure 1 illustrates the 4-year trend of sales of homes priced above $3 million. There were in total about 672 sales between April and May compared to 675 sales last year. Note, though, that sales over $3 million declined about 25 percent in the first quarter before rebounding in the second quarter.
Unlike last year when higher-end sales were popular in Santa Clara and to some extent Sonoma and Contra Costa, this year buyers were more interested in higher-priced homes in Alameda, San Francisco, San Mateo, and Napa. Figure 2 illustrates changes in home sales by price range compared to the second quarter last year.
Out of all homes sold over $3 million, the majority are still in Santa Clara, followed by San Mateo and San Francisco. But Alameda saw a 39 percent jump over last year, followed by a 25 percent jump in Napa, 17 percent in San Mateo and 14 percent in San Francisco. Note that higher-end sales in Alameda still only account for 6 percent of total sales over $3 million.
Figure 1 – 3-month moving average of sales over $3 million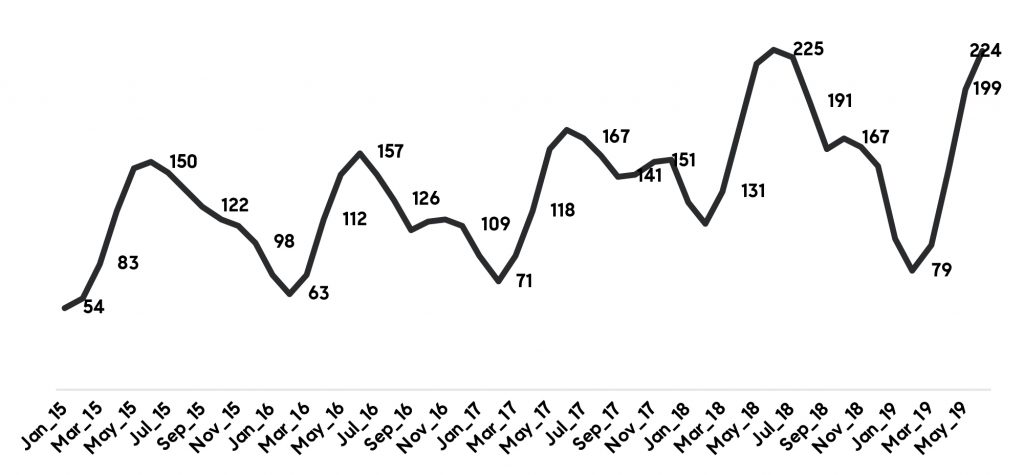 ---
Figure 2 – Quarterly year-over-year change in home sales by price range